Samsung i7500 Galaxy

Since the beginning of this year I have been looking out for a new phone to replace my ageing Nokia N95. My main requirement was that it must be suitable for Web and email use - a large colour screen, integration with Web 2.0 services (such as Twitter and Facebook), 3G and WiFi radios and available on an unlimited data tariff. Secondly the phone must have a decent camera, the 5 Mega-pixel camera and flash built into the N95 is excellent.
Initially I was waiting for the release of the Nokia N97 in June, but due to some unfavourable early reviews, its bulky design and the fact that it looked that if I was to drop it, I might end up with two phones, I decided to search for something else.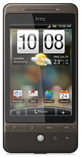 After hearing much news of Google's Android over the previous months I decided to look into which phones might be available with Android. As a Software Developer and Open Source advocate, Android really appeals to me due to its non-proprietary software and application store - as opposed to Apple's offerings! It turned out that there were not a great deal of Android phones available at that time. I did find some vague rumours and information on the upcoming HTC Hero and decided to wait a little longer for its release.
At the beginning of August I was able to play with a real HTC Hero in my local Orange shop. Whilst I was very impressed, I was also very disappointed that the built in Camera lacked a flash. I often take photos when we are out with friends in the evenings and this would not be possible without a flash. So I went back to the web and started Googling for more upcoming Android phones, I soon stumbled upon the Samsung i7500 Galaxy which looked perfect for my needs. Unfortunately it would not be available in the UK until September, so I resigned myself to waiting a little longer.
Samsung i7500 Galaxy Conclusions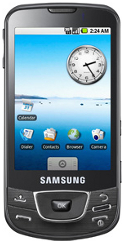 Well its now early October and I finally got myself a new Samsung i7500 Galaxy on O2.
I was completely amazed by this phone, its small, light and compact with a huge beautiful screen. Android's integration with the Web is excellent. I have been using Google's messaging services for years and to now have my phone's address book and calendar synced with my GMail contacts and calendar, and to have new emails and GoogleTalk IM's pushed directly to my phone is quite something.
One thing that takes some getting used to with the Galaxy (perhaps this is just because I come from a Nokia world) is relinquishing control. The Galaxy seems to be always connected to the Web and it communicates with the Google services as and when it needs to, with an unlimited data contract this is fine, but it takes some getting used to. Also, none of the applications on the Galaxy have an "Exit" option or button, the phone seems to manage the applications life-cycle itself which seems strange at first, but really makes things much easier. Using the touch screen when your used to a keypad is strange and very slow at first, but you soon get the hang of it.
Unfortunately this phone has one really serious drawback, so much so in fact that I have just returned mine to O2. The problem is the battery!
After my first day of use the phone seemed to run down fast, but I put this down to me playing with my new gadget. On the second day, I left my phone plugged in until 9am in the morning, through the day I received one 20 minute call, made one 2 minute call and checked my email once or twice (pretty light use), the battery died before 11pm that evening – that is less than 14 hours battery life!!!
In my opinion the Galaxy is NOT a useable mobile phone: It does not last even one day between charges :-(
And so...
I have fallen back to my trusty N95 and again I am waiting for a decent Android phone to be released. If any phone designers are reading this, then I need a decent one piece Android Web phone that comes with a reasonable camera and flash. Perhaps one of these will eventually fulfil my needs - Upcoming - Android Phones and Rumoured Android Phones.
Adam Retter posted on Monday, 14th September 2009 at 18.56 (GMT+01:00)
Updated: Monday, 14th 2009 at September 18.56 (GMT+01:00)