My entic.net Virtual Private Server Migration
I have been hosting my own websites for a couple of years now with a company called Entic.net. Entic.net offer Solaris hosting, by providing full VPS's (Virtual Private Server's) via Solaris Zones technology, they are a great little company with excellent personal support. I am so happy with their service and assistance over the last couple of years, that I really feel I have to sing their praises in public!
I originally started out with Entic.net in mid 2008, when I was looking for affordable Solaris 10 hosting after doing some benchmarking with an eXist-db application and discovering that the best performance was achieved when running atop Solaris 10. Entic.net were at that time able to provide me with a Sun Solaris 10 VPS (curd.entic.net) for just $20 USD/month. Whilst it was located in their US San Jose data center and I am in the UK, I decided that the geographical location did not really matter to me, after all we are both connected to the web!
In June 2009 they assisted me (at no charge!) in migrating to an Open Solaris VPS (well.entic.net) again still at $20 USD/month, for someone who also spends a lot of time in Linux, the move to Open Solaris made server admin much easier - due to the integration of more GNU tools when compared to its predecessor.
As I am an incurable technology junkie, and had been wondering about where to go from Open Solaris now that Oracle have taken over, I contacted Entic.net and enquired about their plans. To my joy I found out that they were already operating some Open Indiana servers and would be more than happy to help me migrate (again at no charge!) if I so wished. I also learnt that Entic.net had expanded and now also have a London data center, and that I could choose to have VPS's located in either.
I jumped at the chance, so Entic.net (well actually, I did it via their self-service web dashboard) setup a new Open Indiana VPS (rama.entic.net), in parallel to my existing VPS and allowed me to migrate in my own time.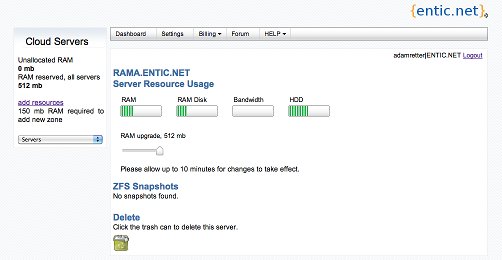 I decided to locate my new VPS in London, im not sure why, but it felt right. I also took the opportunity to increase the memory available to my VPS, taking the cost from $20/month USD to $31 USD/month total, but thats still cheap! Increasing the memory is again completely automated via their self-service web dashboard, changes take effect within minutes, and without needing to reboot the VPS!
So... I now have my shiny new Open Indiana Web Server up and running, I am of course running eXist-db and Nginx on here, and so far it all seems fast and stable. I may consider a follow up article detailing the steps to setup eXist-db and Nginx on Open Indiana if there is enough interest.
...and, a big thank you to everyone at Entic.net for your excellent service and support, Cheers!
Adam Retter posted on Monday, 22nd November 2010 at 16.39 (GMT+01:00)
Updated: Monday, 22nd 2010 at November 22.16 (GMT+01:00)